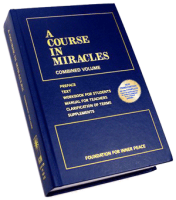 Are You Looking for a Better Way?

"Tolerance for pain may be high, but it is not without limit.  Eventually everyone begins to recognize, however dimly, that there must be a better way."
T2, II, 3:6-7
A Course in Miracles provides a way to awaken to the Love that we are.  It sets us on a path to peace. It helps us reclaim our innocence.  It helps us to remember our Oneness with the Divine.  It "was sent to open up the path of light to us, and teach us step by step, how to return to the eternal Self we thought we lost."
Review V (after Lesson #170) 6:4
A Course in Miracles proclaims that we are guiltless, sinless.  It acknowledges that as ego bodies we do despicable things to each other and ourselves.  It offers a curriculum for re-training our minds so that in the place of attack, blame, judgment and grievances we learn to see things differently.  We forgive and are returned to sanity and truth.  You can forgive everything you think you, or any other person, did because,

"Nothing real can be threatened. 
Nothing unreal exists. 
Herein lies the peace of God." 

ACIM Introduction
What is it?

It is a spiritual path that shares themes with Christianity, Eastern Mysticism, and modern psychology.  Its central teaching is forgiveness.  It is a mind training course designed to help you remove blocks to Love and remember Oneness.
How is it Organized?

A Course in Miracles has five major parts:

The Text - written in book form with chapters and paragraphs.


The Workbook - a set of 365 daily lessons covering a year.


The Manual for Teachers – written by topic with a Clarification of Terms.  The Course says we are all teachers and students.


The Song of Prayer –  prayer, forgiveness and how to commune with God.


Psychotherapy:  Purpose, Process and Practice – the process of psychological healing through mutual forgiveness.

What can you Expect as Outcomes?

Through this self-study program of spiritual psychology you will be helped to undo your guilt through forgiveness.  The ultimate outcome is a return to Oneness.  "And finally you will learn that there is no limit to where you are, so that your peace is everywhere, as you are."

Lesson Review I, 5:2



However, it is the exceptional person who learns alone, and indeed, A Course in Miracles says we ultimately must experience this work with others.  Study Groups allow interaction, exchanges of viewpoints, sharing of personal revelations and awarenesses. 

Study Groups

Who should attend a Study Group?  Any seeker - ones with experience with A Course in Miracles or those who have never worked with it previously.  Just bring your Course (or borrow one of ours) and a receptive mind.

When are classes available: 


      In Person:

      Monday night Study Group is regularly held at Unity on
      Greenville, 3425 Greenville, Dallas TX 75206, 6:30 - 8:00, Join us

      On Computer:

      Wednesday, noon, Daytime Study Group via ZOOM. 
Contact us
 
      for the link.
What is it NOT?

Study Groups are not a practice of psychiatry, psychology, or counseling in the traditional sense.  Through discussions of A Course in Miracles members apply the ideas and principles in a self-study.  The learning time is optional; the curriculum is not.

 The Course does not aim at teaching the meaning of love, for that is beyond what can be taught.

                  It does aim, however, at removing the blocks to the awareness of love's presence,
                  which is your natural inheritance.